Hospitality House History — Serving the North Minneapolis Community for over 60 years
In 1943, with a nation involved in World War II, the Christian Businessmen's Committee of Minneapolis (CBMC) founded Hospitality House Christian Center to house servicemen on leave.
By 1948, with the war behind them, the organization evolved into a child placement agency, a public service that kept Hospitality House busy until the late 1950′s when local courts and family services assumed the responsibilities of placing children.
But for Hospitality House, the seed of youth work had been planted.
Hospitality House Re-born
In those post-war years, the new director of CBMC's ministry, Elwood 'Woody' Larson had a strong conviction that a boys club was needed in Minneapolis. A native of the Minneapolis area, Woody graduated from Minnehaha Academy and Augsburg College and had been director of the Edgar B. Ober Boys Club in St. Paul where he fell in love with working with young people.
It became his dream to start a new Christian boys club, and it just so happened his hometown needed one. On October 26th, 1960 a kick-off dinner was held to celebrate the beginning of Hospitality House Boys Clubs in the near Northside of Minneapolis.
Like much of America, North Minneapolis was changing dramatically as the decade began. The predominantly Jewish community was moving, in mass, out of the area. The vacancies in the community were being filled by poorer families–both whites and blacks.
This transition generated racial tension in the area schools, and as new problems arose school officials became more open to programs that could bring young people together. On January 9, 1961, between 80 and 90 fourth, fifth, and sixth grade boys gathered at John Hay Elementary School where, within just a couple of weeks, the boys club program was operating five days a week.
Soon Lincoln Junior High was also a club venue. In 1963 the club, with a robust membership of Northside youth, made the move to separate from the CBMC and become a non-profit charitable organization under the name Hospitality House Boys Clubs, Inc.
A Place of Refuge
By 1967 Hospitality House had acquired a storefront facility on Plymouth Avenue to serve as a central hub for its school-based programs. Times were turbulent in North Minneapolis and riots began to affect the community.
With violence accelerating during the weeks following Dr. Martin Luther King, Jr.'s assassination in April 1968 tensions ran so high that the Minnesota National Guard was called in.
"The Plymouth Avenue riots of 1967-68 changed the face of North Minneapolis. Many of the people and businesses left, but Hospitality House stayed. We found ourselves growing rapidly as we reached out to troubled youth from our storefront on Plymouth Avenue.
That first year we were warned that fire bombs were being made. Everything was coming apart at the seams. So we began staying overnight at the storefront to see what we could do. One night I heard a gang just outside, then one of them said 'my brother goes to this place, leave it alone, it's ok.' Our place was the only building untouched that year."
– Herb Pfiffner, Executive Director 1964-1988
Girls!
In the next decade Hospitality House determined that it was indeed time to expand the organization's scope and mission to include programming to the girls within the community as well as boys.
After exploring the possibility of this change with community churches and schools, a girls club was begun in 1971 which initially offered programs in cheerleading, athletics, and Bible studies. It was the first club of its kind created for girls in Minneapolis.
A New Logo and Name
When the Hospitality House's original shield logo was updated in 2001 to the strong and evocative logo of today, it represented the decision to spotlight our primary mission–introducing youth to Christ and His abundant life daily, while preparing them to be productive, successful members and leaders within their community and the world.
In addition to that new visual clarification of the organization's mission, we also decided to drop the Boys and Girls Clubs, Inc. from our name and replaced it with "Youth Directions." In 2011 we more strongly defined our primary focus with or current name, Hospitality House Youth Development.
It was determined as early as 1960 that our call to action at Hospitality House would follow three basic principles:
Go where the young people are
Meet their needs
Keep it Christ centered
Those principles have been as much a part of our history as a they are the unbreakable thread in the fabric of today's mission and our vision for the future.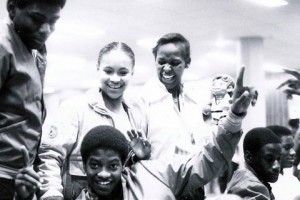 "As one parent put it, 'Hospitality House is like a bus that always shows up on time!' With our strongly supervised programs, emphatic emphasis on one-on-one relationships and potent spiritual, intellectual, and physical programming, Hospitality House has mentored leaders who are empowered to positively impact their families, their communities, and the world. We have made a difference–one child at a time."
– Dr. Ralph E. Galloway, Executive Director 1995-2001