Volunteer For Christmas With Dignity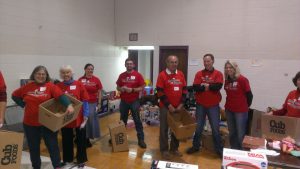 We love our Volunteers!
Volunteers are at the heart of making Christmas with Dignity happen! Join the life giving experience of creating an exciting holiday for hundreds of children by organizing and participating in a CWD volunteer group.
Volunteers sort and price donations, put together "assembly required" items, decorate, set-up and organize store, greet, be a personal shopping assistant, or help carry out gifts on Sale Day – Friday, December 9, 2022.
Volunteer dates for set-up are Tuesday, December 6th – Thursday, December 8th, 9:00am to noon or 1:00 to 4:00pm.
Detailed Volunteer Schedule
Tuesday morning, December 6, 9:00am – 12:00pm – Unload truck and divide items according to signs on the wall.
Tuesday afternoon, December 6, 1:00 – 4:00pm – Count all items in age categories plus mark off bar code.
Wednesday morning, December 7, 9:00am – 12:00pm – Price all items.
Wednesday afternoon, December 7, 1:00 – 4:00pm – Finish pricing all items.
Thursday morning, December 8, 9:00am – 12:00pm – Set-up tables and start decorating.
Thursday afternoon, December 8, 1:00 – 4:00pm – Preparations for Sale Day.
Friday Sale Day, December 9th – Sign-up for a shift from 8:30am – 12:00pm, 12:30 – 3:00pm, OR 2:30 to 6:00pm