For decades teens in North Minneapolis have been at increasing risk of dropping out of high school and becoming pregnant, having abortions, and getting involved in drugs and gang violence. These risks escalated dramatically with COVID-19 and heightened racial unrest.
For over 60 years Hospitality House Youth Development (HHYD) has been standing against these threats with Christian-centered education and sports programs for the youth and families of North Minneapolis. At the heart of our organization is engaging with the youth through: cooking together, team building activities, read-athons, or teach skills classes.
The community of North Minneapolis needs restoration, the kind of lasting restoration that only comes from the heart of our Lord. Please help us bless our teens so they can become a blessing to their families, friends and the North Minneapolis community.
We hope you'll consider joining us this year and look forward to answering any questions you have. Thank you.
Corporate Volunteer Events
Here at Hospitality House, we offer an array of team volunteer events for your small business, company, or corporation to participate in. Community service opportunities in North Minneapolis abound as the needs are so great.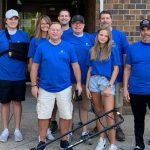 Cleaning & Maintenance Crews
Contact our Development Director today to schedule a site visit…