This year Hospitality House had three basketball teams that consisted of an 8U, 13U, and 14U for a total of 30 players. The 8U team had three girls! The coaches were Mr. Chris, Mr. Vic, Mr. Payton, Miss Dory, and of course Rev. Hunter.
Breaking News: on March 16, our 14U team won the Minneapolis Park Board Championship!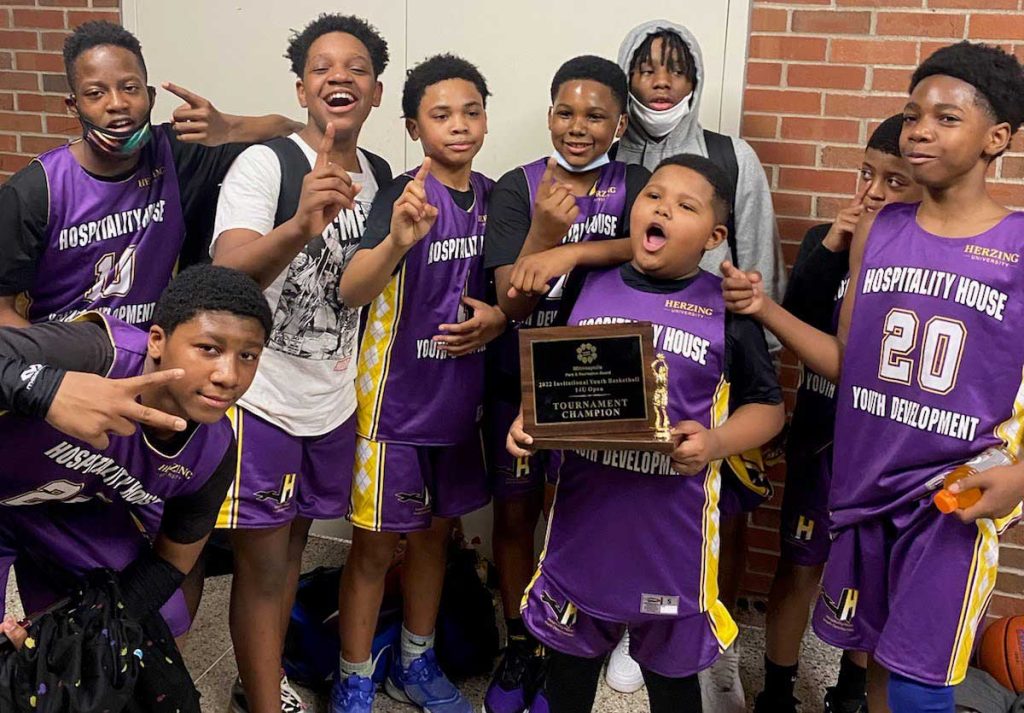 TEENS VISIT NORTH CENTRAL UNIVERSITY
The Teen Program took seven middle and two high school students on a college visit to North Central University on Monday, February 21. The day started with a welcome reception which included food and goodie bags, a brief word from the President. Then there was a campus tour, chapel, lunch, and an admissions presentation. The students enjoyed themselves and one student said, "I think I am falling in love with this school!"
Wow, this is pretty amazing to hear from a 7th grader. We want students to see the value in attending a Christian college and weigh their options as they also explore Historically Black Colleges and Universities (HBCU). What is more important is exposing our students early to the possibility of attending college after graduation. The longer students wait to think about their future plans, which may include college, the harder it is for them to climb towards their goals following high school graduation. We offer our students the opportunity to receive help navigating this important decision making process, especially if their parents are unable to provide it or did not receive it themselves. This is one more reason why the Teen Program is so important in the lives of our teens.
MN ZOO FIELD TRIP
On March 1 the 4th, 5th, and 6th grade classes took a field trip to the Minnesota Zoo. 11 students attended and had a blast! The zoo admission was provided via the Tickets for Kids organization.
STAFF HIGHLIGHT
Looking to bring more spiritual growth with God and new adventures to the students, Hospitality House welcomes Dory Johnson! She is the fourth grade teacher and teen leader. Johnson is a graduate of North High School and attended The Art Institute of Minnesota. Miss Dory is the oldest of five and grew up in a single family home raised by her grandmother. This makes her very relatable to the young students at Hospitality House. Her favorite Bible verse is Psalm 23:4, "As I walk through the valley of the shadow of death I shall fear no evil."
When asked what advice she would give students she replied by saying, "Never give up and always push yourself. Stay educated and never sell yourself short. Remember I can do all things through Christ who strengthens me." Johnson loves crafting, outdoor activities, and all types of music. We are so thrilled to welcome you to the team Dory!
RECENT SITE VISITS
Todd Lehrke, Bloomington Convention and Visitors Bureau
Interested in a Site Visit? Contact Walter Cox Development Officer and Grant Writer wcox@hhyd.org or 612.522.4485 ext. 19
VOLUNTEER
Hospitality House is looking for new volunteers. Would you like to get involved? Do you or do you belong to a church, company or other organization that would like to learn more? Want to mentor a student in math or reading? Are you good at coaching? Do you like to write or make phone calls? Do you like to help plan events? What is your God given talent you would like to share? We would love to hear from you! Contact Matt Kirk, Volunteer Coordinator at mkirk@hhyd.org or 612.389.1396.
SAVE THE DATE
Our Annual Business Breakfast theme is Hope.
"May the God of hope fill you with all joy and peace as you trust in Him."
Romans 15:13
The date is set for Thursday, May 19 at the Edina Country Club featuring guest speaker Chad Greenway.
UPCOMING EVENTS
Business Breakfast – Thursday, May 19
Women's Luncheon – June
Alumni Gathering – August
Building Bridges Through Basketball – TBA
Fall Banquet – October
Christmas with Dignity – December