Our annual Christmas with Dignity event took place on Friday, December 9, 2022. We served 395 families and 1,157 kids. We are so grateful for the generosity of those who donated the funds, toys, or gift cards that enabled us to provide 2400 gifts for these families.
We also had 175 volunteers work to make this event happen. Seeing smiles on the faces of the shoppers as they departed with their gifts assures us that their holiday season will be a bit brighter as they see evidence of God's love and receive the support of their community.
Thanks To All Gift Donors and Volunteers
Churches
Discover Church
Eagle Brook Church
Eden Prairie Community Church
Emanauel Lutheran Inver Grove Heights Church
Good Shepherd Presbyterian Church
St. Joan Of Arc Church
Westgate Church
Businesses
Bally Sports North Wisconsin (Formerly Fox)
Black Sheep Pizza
Crossfit Sisu
Executive Connections
Forte Real Estate Partners
Liberty Packaging – Twin Cities
Macklin Publishing
Northeast Bank
Q Consulting™
Salvation Army, Plus Tom & Trudi Canfield
Scheels
Target
School
Heritage Christian Academy
Super Student of the Month
This past month 11 of our students did an excellent job in their classes and doing their work. We held a raffle and Jenesis a 4th grader in Ms. Durant's class won a bike as one of the Super Students of the month. Congratulations Jenesis!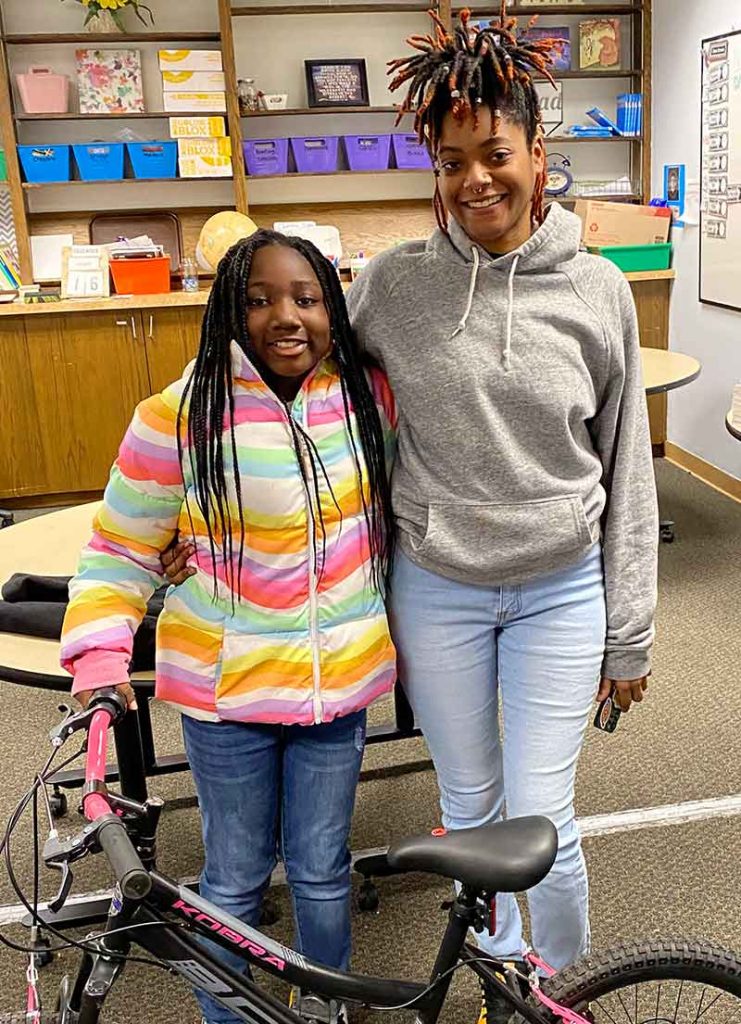 Teen Program
Each week our teens get together for some food, fun, and fellowship. And they get together just to discuss life. Things have been pretty rough the past year on the North Side and at HH they have a safe place to gather and belong.
Would you or someone you know like to work at HHYD?
Did you know Hospitality House is hiring? HHYD is always looking for high-quality candidates to join our team.
We're currently looking for:
Development Director
Education Director
If you or anyone you know might be interested, please share this link to the job descriptions: https://hhyd.org/job-opportunities/
Recent Site Visits
Mark Gallagher, longtime supporter
Interested in a Site Visit? Contact Walter Cox, Development Officer and Grant Writer wcox@hhyd.org or 612.522.4485 ext. 19
Volunteer
Hospitality House is looking for new volunteers. Would you like to get involved? Do you or do you belong to a church, company or other organization that would like to learn more? Want to tutor a student in math or reading? Are you good at coaching? Do you like to write or make phone calls? Do you like to help plan events? What is your God given talent you would like to share?
We would love to hear from you! Call 612.522.4485 or apply online today…
Upcoming Events
May 2023 – Business Breakfast
June 2023 – Women's Luncheon
Fall 2023 – Annual Banquet (date TBD, could be held in October or November)