"There is a time for everything, and a season for every activity under the heavens."
Ecclesiastes 3:1
HHYD Banquet
Hospitality House Youth Development had our Annual Fall Banquet on Sunday October 22, at the Metropolitan Ballroom and Clubroom. The theme was, "There is a time for everything". We had a wonderful time celebrating HHYD's successes with 277 guests.
Thank you to our keynote speaker Brett McNeal, District Assistant Director of Athletics (MPS), emcee Mike Max (WCCO), and all our guests. The event was a success all around with great food and fellowship. The funds raised will go towards our much needed academic, athletic, community outreach programs.
We would like to offer our heartfelt THANK YOU, to all our sponsors, Cornwell Companies LLC, Bremer Bank, KTIS, Liberty Packing Twin Cities an LDI Company, National Christian Foundation – Twin Cities and HealthEZ. We are thankful to all those that could not attend but contributed financially and prayed for the event.
If you were unable to attend and want to donate, we are still excepting donations toward our $190,000 goal. We are close, and you could be the one to help us make it!
Gym Re-opening
THANK YOU to the MN Timberwolves, MN Lynx, and US Bank for renovating the HHYD gym and for the wonderful grand re-opening celebration that took place on Oct 23, 2023. The HHYD Staff, parents, and children are so grateful for your generosity.
This type of gift does not take place every day, we are still in awe. Just that fact that we were not only considered but were chosen for Our Courts. Our Future award was amazing. But then you also brought the mascot's, Crunch and Prowl, the Timberwolves Dancers, Rachel Banham (Lynx), Rudy Gobert (Timberwolves), BearDaBeast (T-Wolves Gaming), and the Executives from all of the major contributors to celebrate.
The children enjoyed the basketball clinic and the fact that the professional basketball players, Rachel and Rudy participated with them in the basketball clinic was a real treat. Oh yeah, thanks also for the swag bags and the delicious food from Chipotle. The children were so excited and have loved the gym every day since the doors were re-opened. We cannot thank you enough.
NBA article link: https://www.nba.com/timberwolves/news/minnesota-timberwolves-amp-lynx-and-u-s-bank-unveil-renovated-basketball-court-at-hospitality-house
More photos: https://www.nba.com/timberwolves/photos/wolves-pics-our-courts-our-future-presented-by-u-s-bank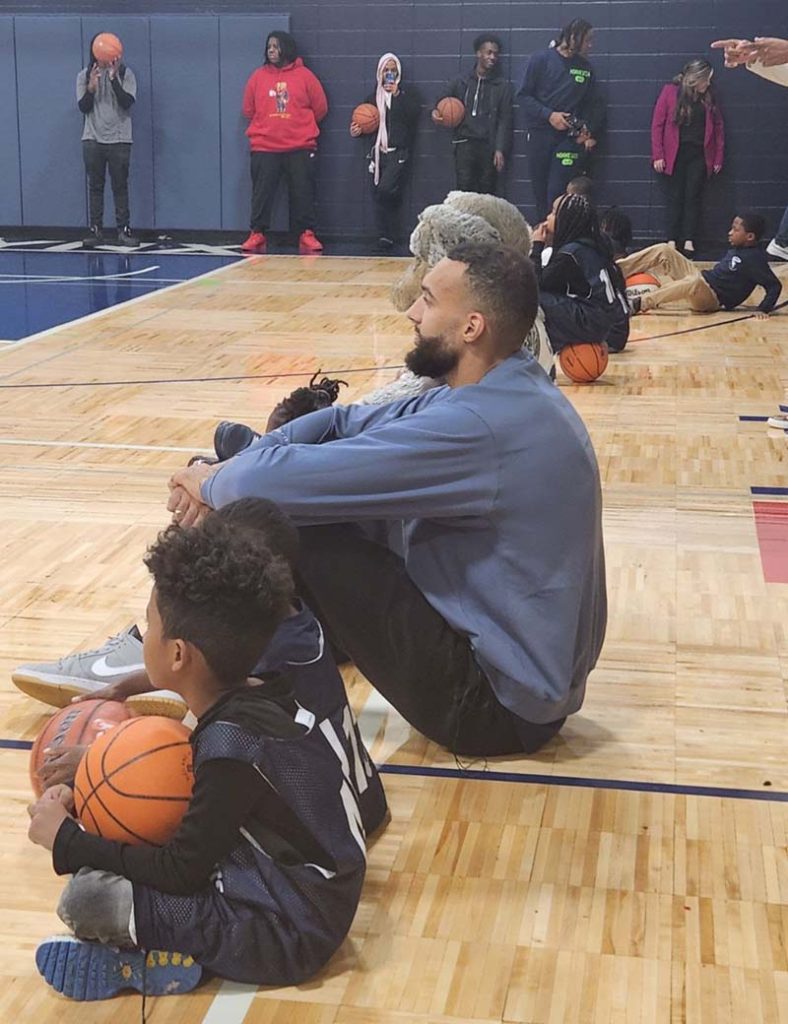 Pickleball at HHYD 2023
Pickleball is now the fastest growing sport in the nation for the fifth consecutive year. And HHYD children are not being left behind in this sport! These volunteers (pictured) have been coming to HHYD for the last two (2) years teaching our children to play. In addition to basketball court, we had Pickleball lines included. Now that the gym has been remodeled, the volunteers won't have to put down a makeshift court with tape.
Woody Larson Christian Athletes of the Year
Taylure Powell
You may remember this young lady from 2022, she was Young Women of the Year, she likes basketball, reading and math. Her values include, family, God, herself, and her friends. She says her favorite staff person is Ms. Dominique, "she teaches ladies how to respect themselves and keeps everyone in line". She hopes to make HHYD better by "teaching younger kids more about God and supporting them in any way I can".
Ira Thomas
This young man is an 8th grader and has attended HHYD since Kindergarten. He has played basketball for HHYD every year since joining the program. He felt especially close to God during the pandemic, praying for protection for his family. Some of the highlights at HHYD were the Building Bridges Through Basketball event playing with the Police – a lot of fun, and having Mr. Chris teach him about being a man of God. Also his Dad (Ira senior) was the Hospitality House young man of the year about 25 years ago.
Gifts are Needed for Christmas with Dignity
Donors may drop of their new un-wrapped gifts Tuesday December 5- Thursday December 7, 2023 at HHYD between 9:00am and 4:00pm. If you would like a box for your place of business, your employer or church, please let us know.
We need gifts for all ages, but gifts for teens are often forgotten. Here are some teen gift idea's:
Electronics of all types
Fun alarm clocks
Games
Remote control vehicles
Cameras
Computers and iPads
Curling irons
Flat irons
Hair dryers
Combs and brushes
Nail care
Grooming kits
Toiletries and lotions
Gift packs
Jewelry
Girl's age appropriate cosmetics
Fashion hair items
Jewelry boxes and other holders
Headbands
Creative arts of all sorts: jewelry making, drawing, face painting, card making, scrapbooking.
Clothes: hoodies, warm-up suits of cotton or nylon, ladies sleeveless shirts, tennis shoes sizes Men's 10 through 15, socks, underwear, pajamas, wallets, purses.
Church Spotlight
Warm Hands Warm Hearts
This outreach Ministry of Warm Hands Warm Hearts is conducted by St. Joan of Arc Church. They have a desire to supply the underserved children with a new winter jacket, hat and mittens/gloves. This year's goal was provide 500 children. HHYD participated and were given 73 slots. Each child received a new winter jacket, hat and mittens/gloves.
Thanks to St. Joan's for the gift and HHYD staff delivering the jackets to the families.
Would you or someone you know like to work at HHYD?
Did you know Hospitality House is hiring? HHYD is always looking for high-quality candidates to join our team.
We're currently looking for:
Education Director
If you or anyone you know might be interested, please share this link to the job descriptions: https://hhyd.org/job-opportunities/
Site Visits
Interested in a Site Visit? Contact Walter Cox, Development Officer wcox@hhyd.org or 612.522.4485 ext. 19
Volunteer
Hospitality House is looking for new volunteers. Would you like to get involved? Do you or do you belong to a church, company or other organization that would like to learn more? Want to tutor a student in math or reading? Are you good at coaching? Do you like to write or make phone calls? Do you like to help plan events? What is your God given talent you would like to share?
We would love to hear from you! Call 612.522.4485 or apply online today…
Download Our 2022 Annual Report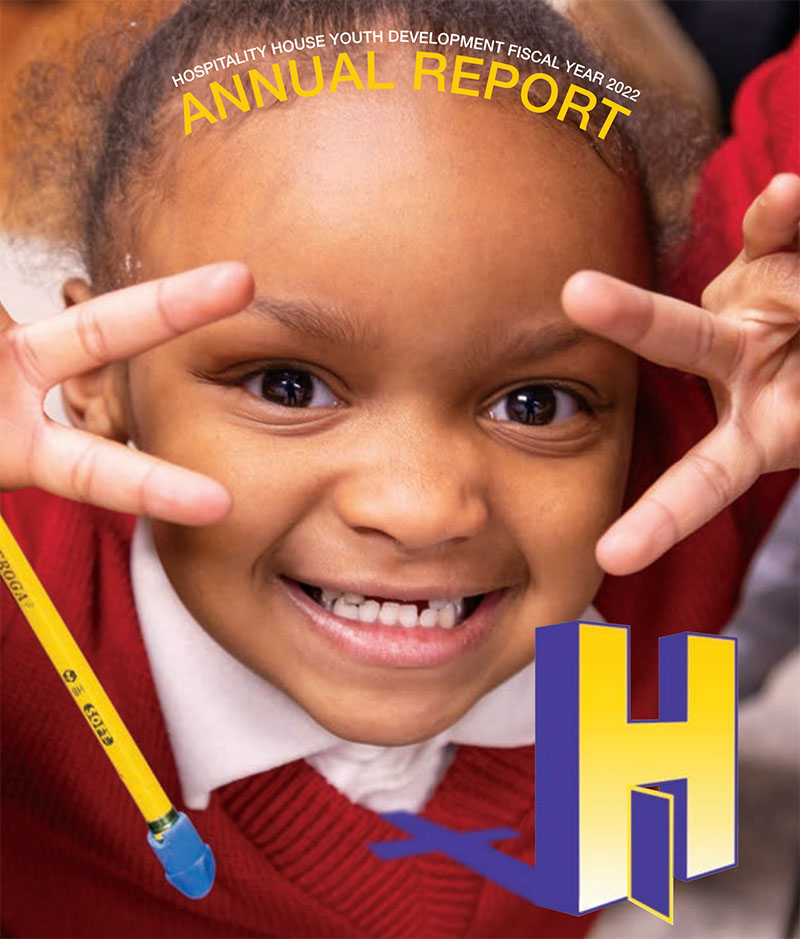 Upcoming Events
November 16, 2023 – Give to the Max Day
November 28, 2023 – Giving Tuesday
December 8, 2023 – Christmas With Dignity